About The Piano Instructor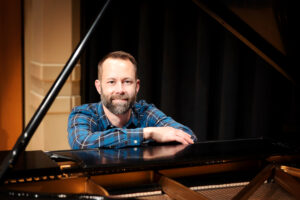 Jeremy Schrepple knows it's never too late to play well because he took only two and a half years of piano lessons as a kid and did not begin music lessons again until age 22.  At that time he enrolled at Boise State University as a music composition major with a focus on piano performance.  While at Boise State he played in the jazz band, composed an orchestral work premiered by the Boise State Symphony Orchestra, and won the 2005 Concerto Competition for piano.

After graduating from Boise State he moved to New York City where he earned an M.A. in Music and Performing Arts at New York University. During that time he scored several films, played jazz piano, and completed the intensive curriculum at the European American Musical Alliance in Paris during the interim summer.

In 2007 he moved to Los Angeles where he placed third in the TCM Young Film Composers Competition, continued scoring for film, and composed the principal thematic music for the opening ceremony of the Special Olympics Winter Games.

He currently resides in Boise, ID and loves all things music-related, especially being a piano teacher helping people play the instrument with confidence, ability, and passion. He hopes his classes will provide a strong foundation for adults, kids, beginners, and advanced – a fun way into the world of notes, rhythm, theory, sight reading, technique, playing by ear and other skills.  He loves music mostly for the pure enjoyment it gives and hopes his students will find the same!